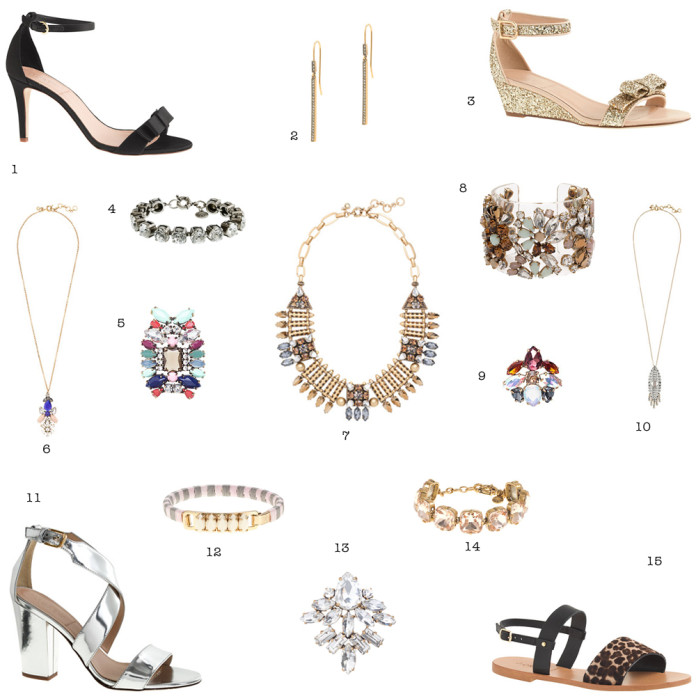 1 | 2 | 3 | 4 | 5 | 6 | 7 | 8 | 9 | 10 | 11 | 12 | 13 | 14 | 15 
Today I have a J. Crew jewelry and shoe wish list for you guys.  Sorry for two days in a row of wish lists, but things got a little crazy for me last week.  I have been dealing with a sick puppy for over a month and we had two vet visits last week.  Thursday evening I was lucky enough to come down with the stomach flu that took me out of commission for most of the weekend.  YUCK!
Anyway, back to happy things like shoes and jewelry!!  I know that I don't need another necklace or pair of shoes, but it sure is fun to look.  J. Crew gets me every time in both of those departments!  I love that they are now carrying brooches too.  I would love to get a couple to add to a vest or jacket to really girly things up!!  The glitter bow wedges are also so darn cute.  I think that they would look adorable with shorts or dresses for the upcoming spring and summer seasons.  I am currently looking to replace my black peep toe pumps that are officially no longer wearable.  I liked the delicate bow on the above pair and that the heel wasn't too high either.  What do you ladies have on your current wish lists?  After two days of sharing mine, I would love to hear what all of you are on the lookout for!