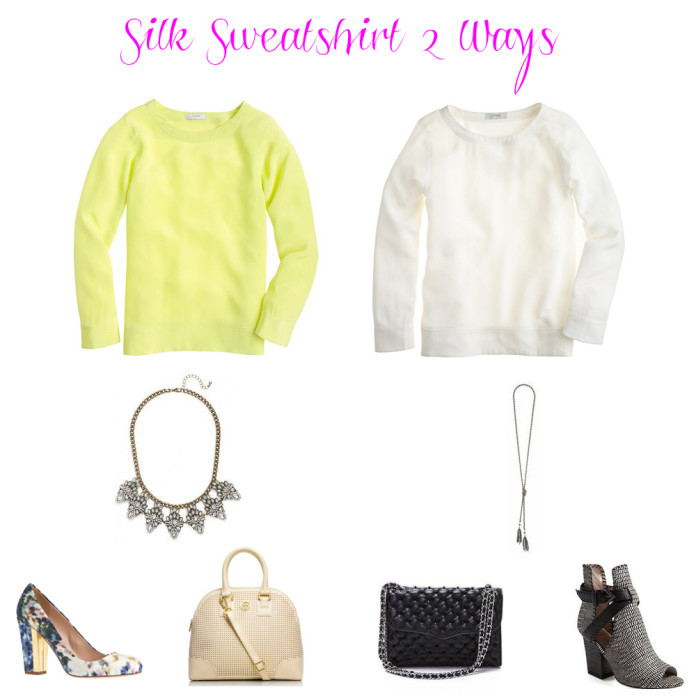 Sweatshirt: J. Crew | (Left Outfit) Necklace: Bauble Bar | Pumps: J. Crew | Purse: Tory Burch | (Right Outfit) Necklace: Bauble Bar | Purse: Rebecca Minkoff | Shoes: House of Harlow 1960
I thought it would be fun to show you how I would style this J. Crew silk sweatshirt in two different ways.  I decided to style one in a more classic way and the other in a more trendy.  For me, I would style both outfits with a great pair of ankle zip skinny jeans.  I also want to note that the sweatshirt colors can be switched in both outfits and still look great. While the cream top would definitely be more classic and conservative, I liked the ways the neon one brought out the little pops of neon in the shoes.  Once I put this little collage together, it just made me want to go out and buy all of it!!  Which style is your favorite?
On a totally different note Alea from the blog My Style Daily featured me and my blog on a Street Style Feature.  She is an amazing lady that I met while attending Lucky Fabb this fall and recommend checking out her blog.  She attended Fashion Week this week and has some great stuff up about it.  I would love for you all to check it out!